Russell D. Cole Library, Mount Vernon's Public Library, has a five member board of trustees. This board is the official liaison between the library and the community. The members of our current board are: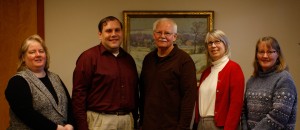 Jackie Morrical (2012-15)
Ryan Reinhart (2014-17)
Bob Meeker (2012-15)
Deb George (2012-15)
Sarah Benesh (2014-17)
If you have any questions or suggestions for Cole Library and would like to contact one of the Board members, please do so by phone or email.
Deb George – President: 895-6007; dlbgeorge@hotmail.com 
Sarah Benesh- Vice President, Linn County Representative: 895-6170; sarndipt489@msn.com
Bob Meeker – Secretary: 895-8309; robertmeeker90@gmail.com
Jackie Morrical – 895-6135; morrical@mchsi.com 
Ryan Reinhart – 895-4113; rreinhart@cornellcollege.edu