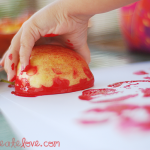 Get your STEAM on at Wednesday Workshops!
Wednesday Workshop is our art and science program that runs throughout the school year.  Each event features an project or experiment that is geared toward elementary-aged children.  Wednesday Workshops are held every other Wednesday from 3:30-4:30 in Room 108.  There are only 20 slots available, please call 895-4271 to reserve your spot.
Wednesday Workshops start in September
September 5th: Bubble Marbling
Come learn about the science behind bubbles and marble paper using paint, soap, and your breath.
September 19th: Marshmallow Catapults
Discover projectile physics through building catapults and shooting marshmallows!