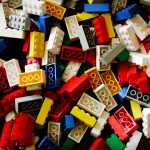 Lego Club is a fun and inviting way for children to explore and share their creativity.  Each meeting, children take time to build and play with our Legos. At the end, they have the opportunity to sign "artist label" cards and display their Lego creation on the 1st floor until the next meeting.
Summer Lego Club transitions back to our regular school year Lego Club in August, so be aware of these upcoming dates: 
August 6, 10:00-11:00 a.m., 2nd floor
August 13, 10:00-11:00 a.m., 2nd floor
August 20 – NO LEGO CLUB
August 27, 3:30-4:30 p.m., Room 108
If you have any questions, contact Grace Chamberlain Rowray at 895-5940 or gchamberlain@cornellcollege.edu.